Keep encouraging the next generation of avid readers with gifts of exciting books. These are just a few suggestions from indie authors. Please post any other suggestions in the comments.
Kris
by Patrick O'Scheen
This wonderful mystery book is the story of a cat and his boy, raised in a church orphanage, who are thrust into a world of crime bosses, murder, deceit and secret identities. But it is also a lovely story about defining "family".
What would it be like to locate the father that you never knew?
For Kris Cane this is a dream come true. However, Kris' father has other ideas about his newly discovered son… The young orphan finds his family with the help of genetic testing, but something is terribly wrong. The boy tries to discover a way to survive as he is embroiled in a murder plot. Can he escape with the unlikely assistance of his cat, a nun, and a detective who wants to see his new-found parent jailed?
This is an exciting story for ages 11+
Available for Kindle or in Paperback from AMAZON
Bifrost Bridge
by James Bradley Clark
This fun tale of Viking and Norse princesses has lovely, bold illustrations by Marcus Gran scattered through a well written fairy tale with subtle lessons. It's a great introduction to some of the creatures from northern European myths.
The Bifrost Bridge is a Viking princess fairy tale intertwined with Norse mythology. Silya, the feisty ten year old Princess of Norway, eagerly awaits the arrival of her cousin and best friend, Princess Hedda of Denmark. The princesses are both looking forward to the summer solstice celebration, but trouble lurks in their future as magical villains see the girls as being vital for their deadly conspiracy. Hedda and Silya find themselves cast into a dangerous adventure filled with fire giants, female warrior angels and the God of Thunder. Can the princesses save themselves and their kingdoms, or will the forces of chaos overwhelm and destroy them?
A fun and thrilling story to read aloud to younger children, or for readers 8 - 12 years
Available in Paperback on AMAZON
Matt Archer Monster Hunter
by Kendra C Highley
Fourteen-year-old Matt Archer spends his days studying Algebra, hanging out with his best friend and crushing on the Goddess of Greenhill High, Ella Mitchell. To be honest, he thinks his life is pretty lame until he discovers something terrifying on a weekend camping trip at the local state park.
Monsters are real. And living in his backyard.
But that's not the half of it. After Matt is forced to kill a strange creature to save his uncle, he finds out that the weird knife he took from his uncle's bag has a secret, one that will change Matt's life. The knife was designed with one purpose: to hunt monsters. And it's chosen Matt as its wielder.
Now Matt's part of a world he didn't know existed, working with a covert military unit dedicated to eliminating walking nightmares. Faced with a prophecy about a looming dark war, Matt soon realizes his upcoming Algebra test is the least of his worries.
His new double life leaves Matt wondering which is tougher: hunting monsters or asking Ella Mitchell for a date?
This action packed book is great for readers 12+
Available for Kindle or in Paperback at AMAZON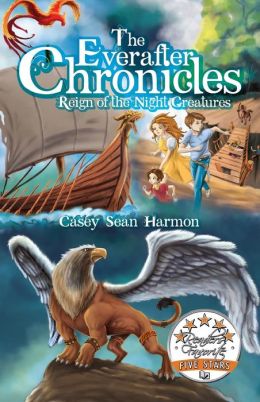 The Everafter Chronicles by
Casey Sean Harmon
The fantastic and fresh interpretations of age old monsters makes this a fun read for all ages, recommended for 9 and up. Plus it is available in Audible! This is destined to become a classic.
Amazing things are about to happen...
The lives of James, Charlotte, young Susan and their dog Clovensport are about to change forever. After investigating a mysterious sun dog that appears in their living room, they are inexplicably transported to the mystical land of Everafter. A host of mythological creatures makes their days long and their nights dangerous as they are enlisted to discover why the moon has stopped shining. Little do they know that their purpose in Everafter is much grander than they realize.
Casey Sean Harmon started writing Reign of the Night Creatures (The Everafter Chronicles, Book One) while he was deployed to Afghanistan in 2009. Rated five stars by Readers Favorite, one of the leading authorities on quality reading, and hailed as "a fun ride" by national bestselling author Obert Skye, this unique and exciting book by a U.S. Army Soldier promises to captivate and amaze!
Ages 9 and up.
Available in Paperback, for Kindle, and Audible at AMAZON
And in Paperback and for Nook at BARNES AND NOBLE
Charlie Sullivan and the Monster Hunters
by D.C. McGannon and C. Michael McGannon
Book 1: The Varcolac's Diary
This exciting series by a father/son duo has a high level of action and suspense that will engage even reluctant readers.

Monsters are real. They have always been here, even when we choose not to see them.
Now, for the residents of Hunter's Grove, the choice is no longer theirs. As a power-hungry varcolac—a Greater—tries to break through the magic holding him back and lead his army of monsters to vengeance against human-kind, there are five who unknowingly possess the power to finish what centuries of humans before them have been unable to do. Charlie Sullivan and his band of new friends will be tested as they attempt to strengthen the magic that can lock the monsters and their evil prince away for good—even if the cost is their lives.
This is the story of five unlikely friends who uncover the sinister past buried under their sleepy hometown of Hunter's Grove. This is a story about looking past differences, overcoming fears, and rediscovering what is truly important in this life. This is the story of Charlie Sullivan and the Monster Hunters of Hunter's Grove.
Recommended for ages 11+
Also be sure to check out the next book in the series.
Book 2: Witch Moon
Available for Kindle and in Paperback at AMAZON
Allusive Aftershock
By Susan Griscom
This is a lovely book for teens that shows friendship, love and loyalty can overcome even in the most tragic circumstances.
What happens when a major earthquake changes life as you know it and the boy you thought you hated ends up saving you? Three times!
Courtland Reese is the guy everyone hates and makes fun of because ... well, he is weird. He communicates with animals. Strange or interesting, seventeen-year-old Adela Castielle can't quite figure out, but when he saves her from being trampled by her own horse, she begins to understand him a little better and wants to learn more about him.
But, Max--her best friend/dream guy/someday-to-be-her-husband-only-he-doesn't-know-it-yet--hates Courtland with a passion. Adela wants to know why, except neither boy is talking.
When Max leaves her stranded in his parents' wine cave with his worst enemy, Courtland, after what the experts are calling a "megathrust" earthquake, Adela starts to question her loyalty to Max as steamy kisses in a dark damp cellar only fuel her emotions with more conflict.
But does she really have time to worry about that when fire, destruction and mayhem surround her?